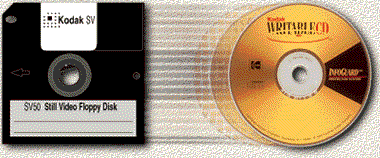 Preface
My Journey of Exploration during a Period of Revolutionary Changes

in the Arts and Sciences of Computing. Photography & Digital Art.
The technologies that enabled digital imaging as we now know it today, began to fall into place in the mid-1980's. The first CCD (charge coupled device) had been invented in 1972 and now CCD sensor technology was gradually becoming inexpensive enough (you know, Moore's Law) for consumer type applications like camcorders.
In 1975, Steve Sasson of Eastman Kodak built and demonstrated the first digital camera. A year later, Bryce Bayer (also of Kodak), invented the RGBG color filter array. These two technologies would be key to the future of digital photography. Initially however, their use would be restricted to government, scientific and forensic imaging applications, because like many new technologies, the high cost to produce them meant only certaine markets could justify the expense of buying them (think CIA, FBI, Military). Initial yields were low from the Kodak silicon lab, producing very few high quality CCD chips, so they were very expensive. Once threre was enough demand and it was turned into a production run unit, only then would the cost drop enough to be affordable to consumers.
Digital scanning and image editing were already being done by large pre-press systems. The development of the personal computer would finally provide the foundation that would enable those digital imaging tools to reach a wider audience, not the television as Kodak was planning. Desktop computers were becoming more and more common on desks in many corporate workplaces, except Kodak. Initally as spreadsheet and word processing tools, and later as drafting, drawing and paint software evolved, they began to be used in a variety of design and engineering visualization applications as well,
In 1981 Sony had demonstrated the first electronic still video camera, called the Mavica, which used a CCD color array and wrote still images onto an analog video recording technology in the form of a 2.5" Video Floppy Disc. It would arrive in stores by 1983. You could store 25 full frame video images or 50 field (half resolution) images on one SVF disc. The image quality of these units was extremely poor, mostly suffering from the limitations of the NTSC composite video signal and then the subsequent analog recording (same technology as VCR recording) to magnetic disk. Images were blurry, full of color noise, artifacts and the quality degraded each time the disk was copied. This wasn't so with digital recording.
Even so, Kodak and many other consumer electronic companies scrambled to put together development teams to exploit this new technology. I wasn't clear on who would buy a very expensive camera with image quality even worse than the Kodak Disc camera. An answer would soon be discovered, though. It turned out photojournalist could live with it some instances, especially to meet deadlines. We learned that what they really wanted was about 4x the resoluion of video, megapixel. Quality could suffer a bit, if meant they would be the first to publish images of an important event, Still video quality often didn't cut it for the bigger news organizations, so was a tough sell.
While video technology hadn't changed significantly in fifty years. Computer display cards & monitors it seemed were changing every week, more colors, more resolution, bigger monitors with even more resolution, coprocessors, graphics processors. First VGA and then 8-bit color display technology began to displace the predominantly monochrome displays of the early personal computer. The first twenty-four (24) bit color displays made their appearance around 1985, with the ATT Targa video cards for IBM PC's. The Targa card was one of the first color video digitizers for the computer. It allowed one to capture video camera images directly into the Targa board's memory, buffer without first inflicting the loss of quality resulting from recording it as an analog image on a medium like videotape. The included software then allowed you to do fantastic things with this incredibly clear and vibrant image that you'd captured with the press of a software button on the display using the mouse pointer. You could then save the manipulated file digitally to the PC'a hard drive. The first "affordable" (Around $10K without hires RGB video camera) digital color photography system. Mac users would have to wait until 1989 for 24/32 bit color support.
Kodak's brand new Consumer Electronics Division was not doing well selling the Kodak labeled, Japanese made 8mm video camcorders. The magnetic media demand was growing just fine though. Kodak made the decision to exit the 8mm camcorder business in 1986. I wonder how Sony and others managed to sell so many 8mm camcorders in the years since. instead pinning their future plans on the potential of this new video industry standard.... the Still Video Floppy. A line of Still Video products based on this SVF standard was just ramping up. They included a single disk player/recorder, a multi-disk player/ recorder, an SVF camera, a video transceiver and finally an Instant film based video printer on which I was assigned as a Color Quality Technician. Not an easy job, the film was all over the place.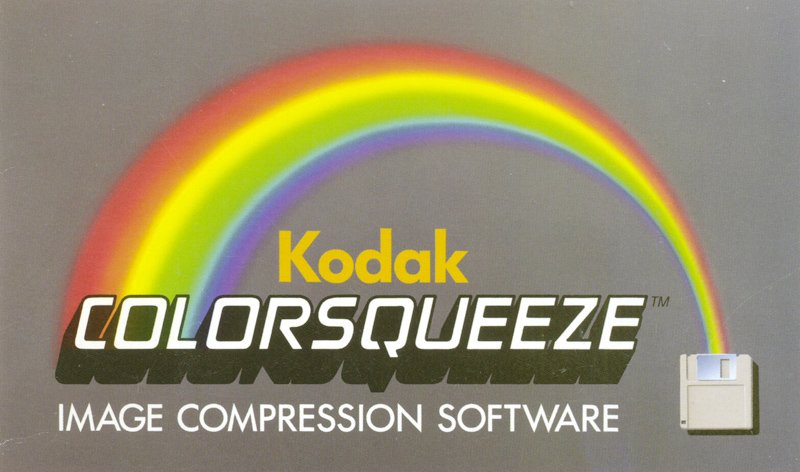 In the spring of 1986, (shortly after the Polaroid suit announcement) Consumer Electronics Division was renamed the Electronic Photography Division. Please observe that Electronic does not necessarily denote digital. The new "electronic" photo technology Kodak was about to adopt was an already 50+ year old technology. A medium quality, analog recording technology, which was often highly compressed into a composite video signal (the yellow, two wire, video phono plug on most video devices) full of artifacts, noise and which degraded with every generation of copy. You know, the recently obselete television broadcast standard that we only recently did away with in favor of a new High Definition digital signal. Fortunately, we didn't have to wait for that to happen first.
As one of the original members of that first Electronic Photography Division of Kodak, I would witness what was an extremely turbulent era in Kodak's history and in the history of photography as well. .
the dawning of the digital age of photography!
I'd already been scanning my own photos into my home computer since 1985, and recognized the coming convergence of computers and photography. I often brought ImageWriter prints into the office to show around to my supervisors and peers, trying to make my case. This was at a time however, when computers themselves were foreign to most people. For the most part, only Kodak managers had PC's on their desks, used solely for a spreadsheet or word processing. Everybody else had a PROFS terminal connection to the mainframe. Software engineers might have a PC in their office for writing code but that was about it, unless you were a nerd, like me.
So as you can imagine people within the company at that time (and most other people, outside of the Valley itself) were not paying any attention to Silicon Valley. This however, is where digital photographic input, storage and output devices were beginning to appear from small startups. I feared Kodak was already behind the curve and could be wasting more time with Still Video. Utilizing a revolutionary advance in computing, the personalization of the printing press, desktop publising, I hoped to provide a catalyst that would more quickly steer Kodak toward the digital revolution in photography, which was already happening elsewhere!
What follows is the tale of my journey of exploration during this exciting period of time. Please keep in mind that this is the story of my experiences, from my perspective, and as such is not intended to be a definitive history of all of digital imaging, just what I experienced and still have records of. There were thousands of other proposals, I'm sure I never saw. Definitely, the bias is definitely is on products I actually worked on, had knowledge of, played with, illustrated, designed, proposed or copy edited for others in the team. One of the best teams I ever worked with by the way. I learned so much from working with them. The many talented engineers of that original EPD and Printer Products would have an impact on nearly all the digital products that followed.
The computer, besides being the most wonderful creative tool ever, is a great archealogical instrument as well. Each time you create a new document and save it to disk, it is automatically time stamped. If you're careful and backup all your work, you create a trail in time that can be followed backwards revealing the thought processes that occured. That's sort of how this project came about. While looking back at the files I'd saved over the years, I realized they were snapshots of my journey. Combining these snapshots with my recollections and information from articles in the various Mac magazines of the time (I still have many of them in boxes in the basement), and my colleagues from that period, I hope to assemble an illustrated document of those experiences.
This project is one I'd been contemplating for a number of years but had been very reluctant to tackle. Not only because of the scope, but also for lack of a medium that could effectively present all the media types I've accumulated over the years. Everything from MacPaint files to Studio Pro animations, also Hypercard stacks, product illustrations, software prototypes, hi-res scans, 3D models, VR movies and more.
A book wouldn't have done it justice, much too linear. I had considered an interactive multimedia presentation possibly using Director, but there were issues with licensing (I couldn't afford it) and with the distribution across various platforms. Perhaps a gallery installation would be the way to go, it's a possibility I've yet to rule out. Fortunately, in 1996 I discovered the Worldwide Web and HTML and how dynamic it could be. Also, it doesn't cost much to get into, except maybe in the time spent. This definitely was the medium I'd been waiting for.
PS: Any galleries, museums or institutions interested in an multi-media installation on the genesis of digital imaging at Kodak? I have resources to borrow some period equipment like scanners, cameras, printers, and so forth. I have a few vintage Macs that could be running vintage software and prototypes, in addition to all the media above. Please contact me if interested.

Click here to mail me your comments.